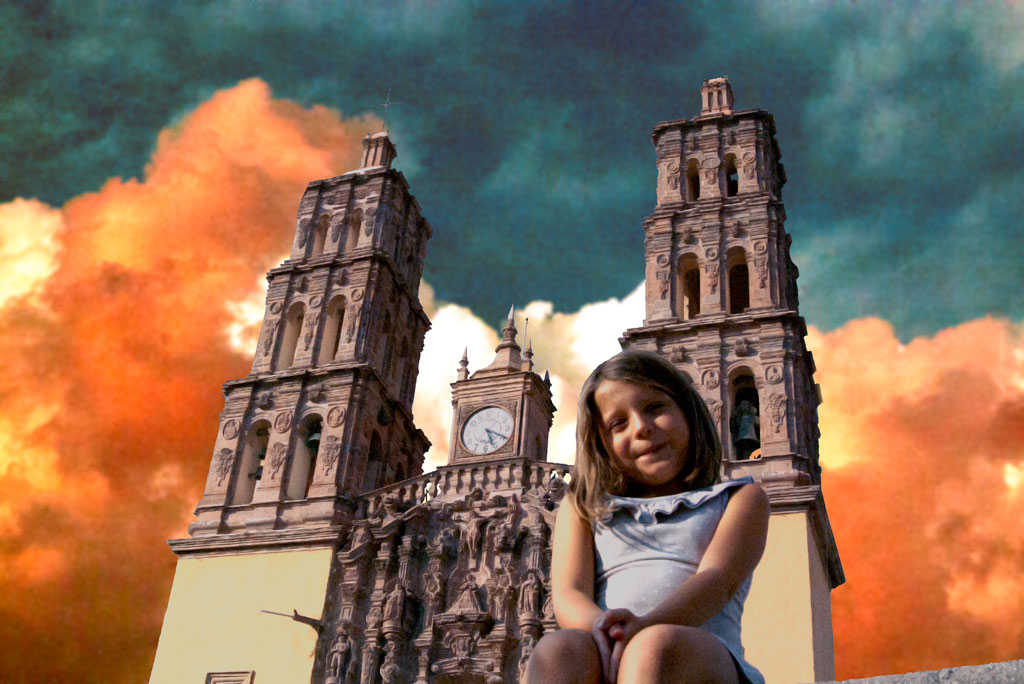 In Poland, people often say, that everything's good ends quick. We have been living in San Miguel de Allende for the past five months, almost half a year. The kids went to school, the adults worked on their own little projects. We all learned a bit of Spanish (some more then others) and made a lot of good friends. On Friday we will hit the road again. Our Mexican visa expires by the end of April. In order to see a bit more of the country we got to love so much, we'll set off three weeks before that deadline and head towards the US border using roads less traveled. That is, hopefully less traveled by the drug and people traffickers…
Some time ago we visited Morelia, where we stayed with a wonderful family we've met early January in Los Azufres. They showed us their beautiful town, took us to Patzcuaro and offered a free stay at their summer house in Ixtapa. Taking advantage of that offer, we'll leave San Miguel at the end of the month, just when the kids would have started their two weeks spring break. Through Morelia, we'll head south to Ixtapa, where we plan to stay for about a week of "well deserved" vacations. Then, along the Pacific coast, we'll travel north to Puerto Vallarta and on to Matzatlan, where we plan to embark on a ferry, that will take us across the Gulf of California to La Paz. On the Baja, we'll make a little loop to visit Cabo at the Southern tip of the peninsula, then turn North and through a little village called Guerrero Negro (very dear to our memories), head towards Ensenada and Tijuana. I'm not sure exactly when we'll cross the border, or what we will do on the West Coast, but that's not important right now.
What matters, is to prepare for the trek and to tie a few loose ends. It's end of March, which means even homeless, jobless souls like us have to get their act together and file their US tax returns. That's priority number one. Second thing is to decide what we are going to do comes August. That's when the lease on our house expires and our travel fund dries out. That means finding a new job, and a place to live. Time to update that resume and send out a few letters. And finally, we also need to prepare for the next part of our trek. It will be definitely longer than the first part. Both, in terms of time and distance. For that, I'd like to spend some time in the library and prepare an interesting route.
Why in the library, you ask? Well, some time ago, I came to the realization that we spend way too much time in front of our computers. Don't get me wrong, they proved useful at times. Even often. But that doesn't change the fact they're mostly evil… You turn them on to find a campground near Ixtapa. It only takes Google a fraction of a nanosecond to return three billion, highly relevant ads, and a few loosely related results… That's impressive and makes you feel highly efficient. You start browsing through them, and suddenly – three hours later – you know what all of your friends back home had for dinner, but you still don't know where you are going to sleep next week. You start over and another three hours pass, while you read irrelevant nonsense, that leaked into your "highly efficient" workflow. The library on the other hand, is about 10 minutes from our apartment. It takes roughly 5 minutes to find the right guide book and about 30 to do an in depth research. An hour later, I'm back home with a (hand written) trek plan in my hands, and… plenty more time to kill!
For we have designated Thursdays computer free days! I have to admit, I've been the biggest offender. Even though not addicted to following other people's lifes on Facebook, I've been constantly tinkering with yet another programming project or another "great" idea. Last two computerless Thursdays helped me realize, that except for the few important matters I need to attend, there isn't much stuff we need computers for anyway… First there was anxiety, almost fear and panic attack. How can I put the computer away? There's so many things I need to do! But then, after a few computerless days, a certain calmness and clarity started to take it's place. Matters got prioritized, life simplified and somehow the days became longer and more enjoyable. Our kids are thrilled! They love the idea, and when I first proposed it, they immediately countered with Saturdays and Sundays be computerless as well. Since recently I've managed to fry my computers' hard drive, I'm seriously considering institutionalizing a few more analogue weekdays in our schedule. I only wish I fried that hard drive much earlier!
For the past five months we've been living in one of the most beautiful places on Earth. We've met wonderful people, made friendships and learned a few things. On one side, I wish we could spend more time here – the weather is great, the town magnificent, almost magic. On the other though, we realize that although rare, such places are all over the World. And if we want to see them all, it's time to hit the road again…