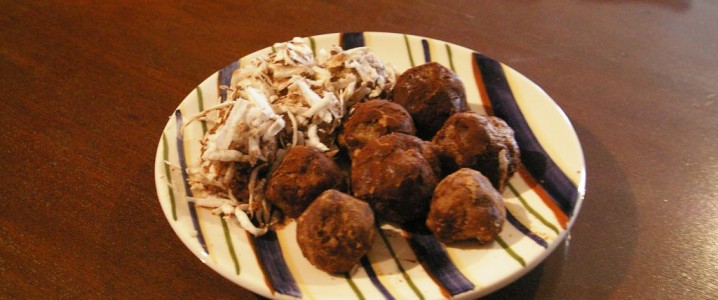 A recent visit at a local natural foods store prompted me to develop this recipe. They had samples of their dark chocolate trufles that basicly tasted like haven. Yes, delicious and healthy at the same time made my brain produce endorfines and let me feel overwelmingly happy. We all know that feeling , right? That is why we keep eating chocolate untill the last square:-)
They are not only easy to make but also nutrient dense so you do not have to feel guilty when you eat them. The reason for making nuts the main ingredient is that my son is not a big protein eater so I need to smuggle them in whenever I can.
1 cup of almondes
1 cup of pecans
2 tablespoon of honey
2 tablespoons of coconut oil (melted)
¼ teaspoon of cinamon
3 tablespoons of raw cacao
Shreded coconut
Put first five ingredients and half of the cacao into the food processor and let combine well untill it forms a sticky paste. Roll into small ball and dust with cocoa or coconut. If you like things sweet just add more honey. Keep them in the fridge or even freezer like I do. They just taste better when chilled and thaw within minutes. Delicioso!!!!Enjoy.