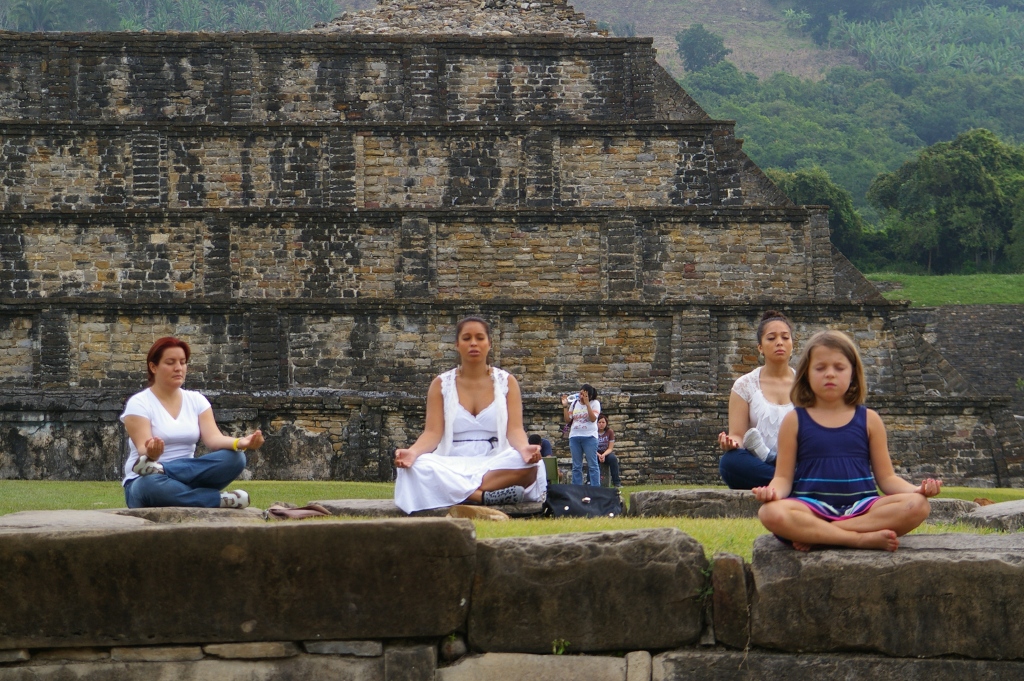 During our two day visit to Xilitla, we have visited Las Pozas and Sotano de las Huahuas. The later is a large cave in the middle of a jungle, where at dusk, we have witnessed several flocks of macaws and thousands of swallows dive deep into the dark abyss. A very unreal experience. Unfortunately, despite shooting almost 400 photos, I couldn't capture the moment. Instead, here's a short excerpt from a 2006 BBC movie called The Earth.
We have left the wild, but beautiful region of La Huasteca driving South-East towards Poza Rica. Even though it's only a distance of 170 miles, it took us almost the whole days to get to El Tajin. What on a map looked like a decent highway, turned out too be a really bad maintained road dotted with small towns, countless speed bumps, crazy drivers and unmarked potholes able to hide a midsize sedan.
We were up for a large disappointment, when we finally made it to Poza Rica. This large city, unlike most towns we've seen in Mexico doesn't have a picturesque Centro or narrow, cobblestone streets. In fact it looks like a modern, US city – busy and functional, but charmless.
Our first attempt at finding a shelter for the night failed miserably. Lured by the name and decent looking exteriors, we attempted to drop anchor at one of many local Auto Hotels.  Unfortunately, we were told that the rooms (and curtain covered garages) were only rented for up to… six hours. Hmm…
Haunted Mansion - plantation style hotel near El Tajin
Haunted Mansion - plantation style hotel near El Tajin
31-Dec-2011 09:20, PENTAX Corporation PENTAX K100D , 5.6, 28.0mm, 0.011 sec, ISO 200
Since we came there to see El Tajin and not to make local hotel moguls richer, we decided to leave town and look for accommodation near the archaeological site. That was another mistake. It was already dark and way too late to find a camping. Our only option was finding a room. Except, near El Tajin there is only one hotel – charming, but dated plantation style house. I have no doubt it used to be a really chic place – some two hundred years ago… Nowadays it's missing almost everything you would expect from a hotel – there's no internet, no towels and only sparsely some hot water. Even the owners left (or died) already, leaving a haunted mansion business in the very capable hands of their… handyman. What remained from the good old days were the prices, eagerly adjusted for two centuries of inflation.
We were tired and it seemed that we had no choice. After loosing a small fortune on a room lacking some of the basic amenities, we rolled out our sleeping bags and went to beds. I'm sure we would have gotten even more memorable souvenirs from the bargain if we decided to use the hotel linens.
Our luxurious hotel had a restaurant, a very nice looking indeed. Except, there was no one to operate the kitchen. Imagine our despair when we had to leave without even as much as a cup of coffee in the morning! Quite frankly though, the night was peaceful and quiet – no fire crackers and no drunken serenades at midnight – which helped us get over those minor annoyances quickly.
We have arrived at the entrance well before 9.00 AM. Unlike hotels, there is no shortage of food joints in El Tajin. I wouldn't dare calling them restaurants – that would be a great exaggeration, but if you look beyond the bare ground floor and plastic seats, they do offer some decent, inexpensive breakfast options. Regrettably their coffee comes automatically sweetened… Oh well!
After getting past the crowds of vendors, we arrived at the entrance. A large, modern, concrete complex of building hosts a small museum, restaurant, restrooms and offices. The archaeological site is fairly large and we have spent the whole morning wandering aimlessly between smaller and larger pyramids.
A view from the living quarters towards the ball game and the Pyramid of the Niches
A view from the living quarters towards the ball game and the Pyramid of the Niches
31-Dec-2011 12:10, PENTAX Corporation PENTAX K100D , 5.6, 28.0mm, 0.008 sec, ISO 200
Even though undoubtedly  interesting, I have to admit that our first encounter with the remains of the ancient civilization was rather disappointing. As usual, we came unprepared – without knowing what we're looking at, all buildings looked like nothing more than a bunch of very old rocks. Only after doing some research, I found out that the site we visited, was in fact a capital city of the nation of Totonacs. The site's prosperity falls between 600 and 1200 AD. An excerpt from Wikipedia article on the city:
Its significance is due to its size and unique forms of art and architecture.[10] The borders of the city's residential areas have not yet been defined but is the entire site is estimated at 2,640 acres (10.7 km2).[13] To date, only about fifty percent of the city's buildings has been excavated, revealing a series of plazas, palaces, and administrative buildings within a two-square-mile area.[5] Unlike the highly rigid grid patterns of ancient cities in the central highlands of Mexico, the builders of El Tajin designed and aligned buildings as individual units.[15]There are several architectural features here which are unique to the place or seen in only rarely in Mesoamerica. Adornment in the form of niches and stepped frets are omnipresent, decorating even utilitarian buttresses and platform walls. Stepped frets are seen in other parts of Mesoamerica but rarely to this extent. The use of niches is unique to El Tajin.[10]
Haunted Mansion - plantation style hotel near El Tajin
31-Dec-2011 09:20, PENTAX Corporation PENTAX K100D , 5.6, 28.0mm, 0.011 sec, ISO 200