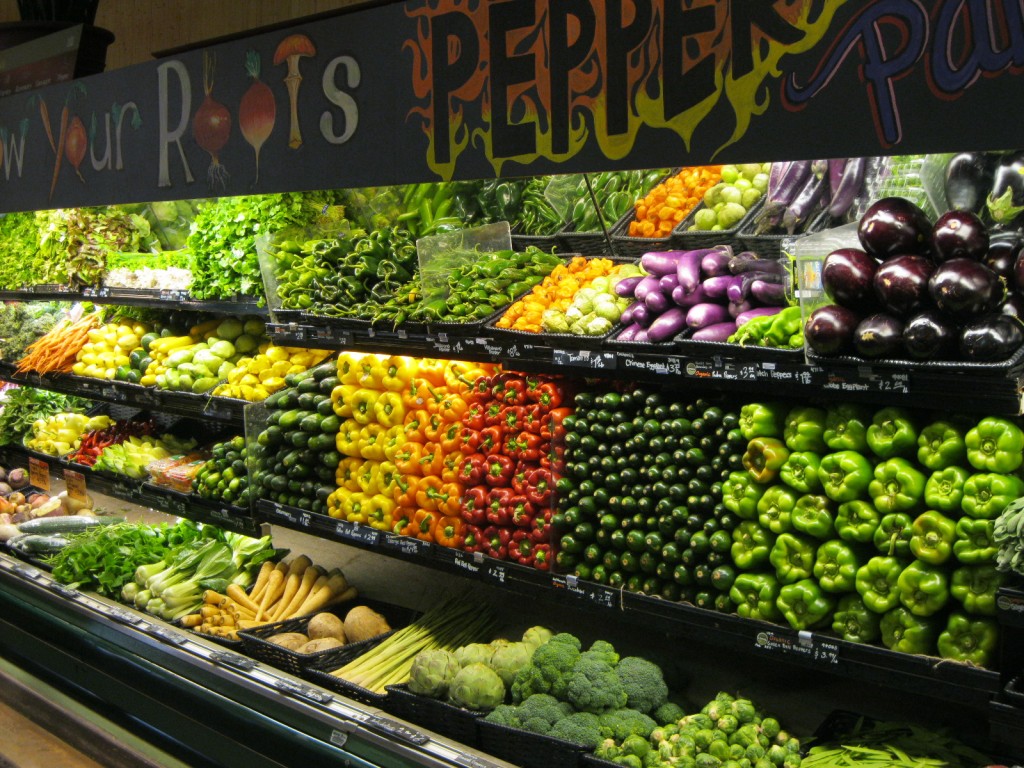 We recently visited Phoenix, AZ. I will remember it forever, not because its beauty, but dry heat frying you from dusk to dawn and a visit to local Whole Foods store. It was the first time for me. I heard a lot about them, but since they are mostly on the West Coast and in the central states, I had no chance of ever visiting their stores.
For someone that likes real food as much as me, it was like going to Disneyland for a kid – excitement all the way. I knew that I was going to find everything that I needed, all those things that drew a blank on peoples faces in most regular grocery stores.
I could not wait to get out of the car, we were not even in a full stop yet… not a good example for the kids. Anyway, I rushed inside like it was going to close in five minutes. Passing all the studs that were checking themselves out in the windows I was finally in the fruit and veg aisle. Wow, I thought, fresh young coconuts, what a treat! I walked further to find that almost ALL was organic and locally grown. Now, the prices were a little high. Lets not judge yet, I thought and moved to the seafood section. Sooooo much variety! Wild caught, natural diet, clear water, omega 3 the tags read… but the one particular fish that I was interested in lacked price/ lb information. Well, that is very important info for most of us, right? I looked at other packages, some had it some did not. I walked away since I want to be able to compare prices before I make my decision and a "package" is not a sufficient unit of measure for me:-)
Next I headed to the dairy isle hoping to find kefir for my kids. They prefer it to regular milk, unless we have access to raw, whole fat milk. Anyways, I almost fainted when I saw the prices… $5 for a quart bottle of lifeway kefir?!?!?!?At Wegmans I used to pay just little over $3 or $2.99 when on sale! I walked away again.
Passing by the meat section I noticed a ½ lbs bags of sauerkraut for $3.99 a package. Let's analyze it little further. In order to make sourkrout you need to shred the cabbage, sprinkle it with salt and beat it until it releases its juices. Put it all in a dish and weigh it down… in few days its is ready. Pretty simple process, don't you think? As far as organic goes, cabbage is very minimally sprayed with pesticides, so you do not really have to buy it organic. That is the most expensive sauerkraut that I have seen in my life!!!! In this case I will agree with my husband, it was a rip-off.
In quest of a good sourdough bread I wonder to the bakery isle. I am sure it varies from one store to another, but their bakery was very small and had hardly any freshly baked breads available. The ones that were there would probably feed only my kids for breakfast at a price of $4.99 per small loaf. I will not even mention the Ezekiel bread for $5.50 a loaf!!!
I ended up getting few things like coconut oil, olive oil, some fruits and vegetables, icecream… most were their store brand called "365".
Walking out I realized that there is nothing to be jealous of, we have Wegmans with the same selection of products with much better prices:-)
I never thought I would say this because I hardly ever shop at WalMart (for various reasons), however now being on the road, I have to. WalMart saved my butt so many times on that trip – it is everywhere, even in the middle of nowhere and even thou their organic section is very limited, you can pretty much always find organic eggs, hormone/antibiotic free harvestland chicken, organic carrots, spinach, apples. organic peanut butter and vegetable stock. I can live with that, that is a survival kit that allows me to prepare a nutritious meal for my family.
Having said that I once more realized how I miss Bonnie's milk, Olde Silo Farm, Seven Bridges Farm and Wegmans of course… Whole Foods has nothing on us!:-)