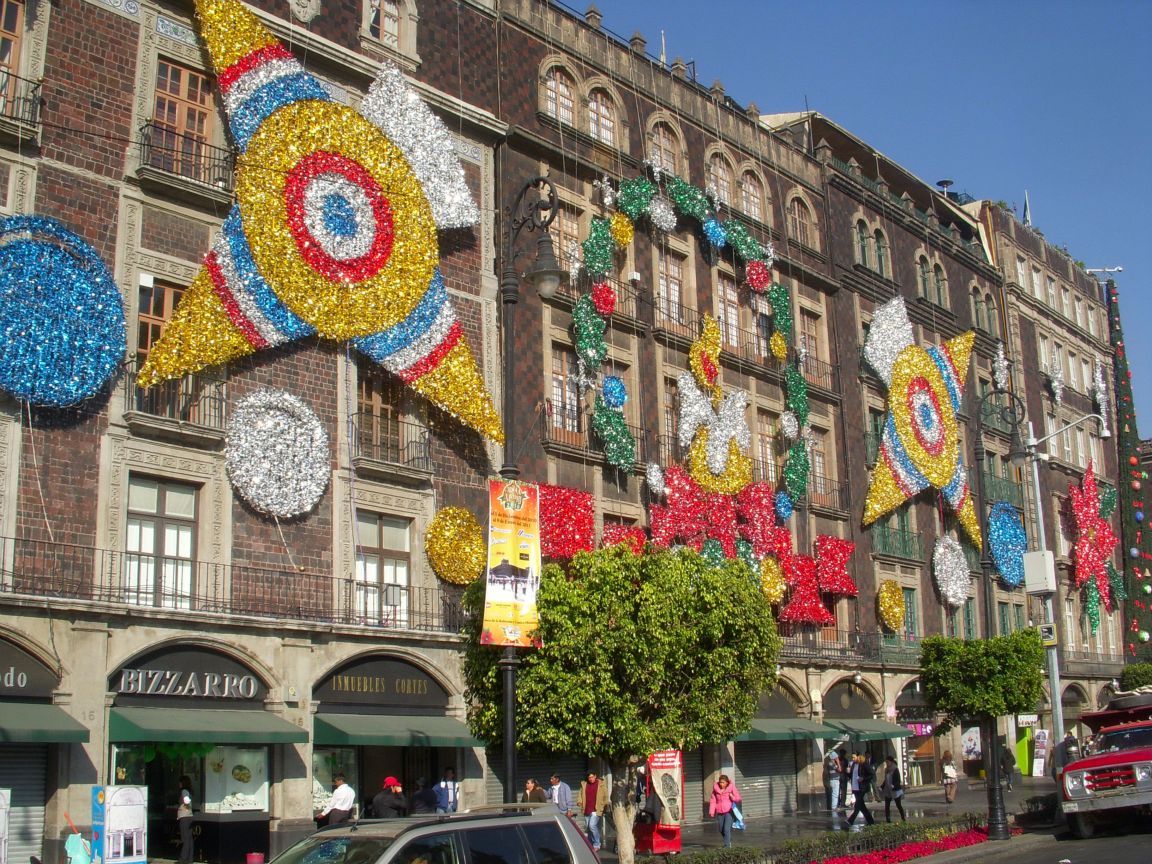 It is the first time we spend Christmas in warm climate. Very strange feeling but not for Mexicans who are in Christmas spirit for a month or so. The whole town is beautifully decorated and the Christmas carols are playing everywhere. The celebrations of "posada" which means "inn" or "shelter" also started few days ago. This tradition recreates Mary and Joseph's search for a place to stay in Bethlehem. They are held on each of the nine nights leading up to Christmas, from Dec 16 to 24 th.
All the markets are full of beautiful decorations, lights, candles, sweets and trees of course. We, instead of getting a classic tree decided to do something different. On our way from Guanajuato we picked up a dead tree branch. On our roof top terrace we shaped it and spray painted it white. An upside down plastic red bucket serves as a stand and ……tada!!!!!! Tree was ready for decorations and these were very special this year. All were either knitted by me or made by my children. The only thing we bought were lights. It was sooooo much fun even though, I have to be honest – it is not the most beautiful thing I have ever seen:-) The kids were extremely happy and proud cutting out all the dinosaurs from color paper. We also have Spiderman, who on a daily basis is just a finger puppet but now during Christmas guards order on our funky tree.
Now all we have to do is make sauerkrout and muschroom pierogies for Christmas Eve dinner…..Feliz Navidad Everyone!!!!
17-Dec-2011 14:59, OLYMPUS IMAGING CORP. u850SW,S850SW , 3.5, 6.7mm, 0.033 sec, ISO 100
17-Dec-2011 14:59, OLYMPUS IMAGING CORP. u850SW,S850SW , 3.5, 6.7mm, 0.033 sec, ISO 100
17-Dec-2011 15:00, OLYMPUS IMAGING CORP. u850SW,S850SW , 3.5, 6.7mm, 0.033 sec, ISO 100
17-Dec-2011 15:01, OLYMPUS IMAGING CORP. u850SW,S850SW , 3.5, 6.7mm, 0.033 sec, ISO 100
17-Dec-2011 15:01, OLYMPUS IMAGING CORP. u850SW,S850SW , 3.5, 6.7mm, 0.033 sec, ISO 100