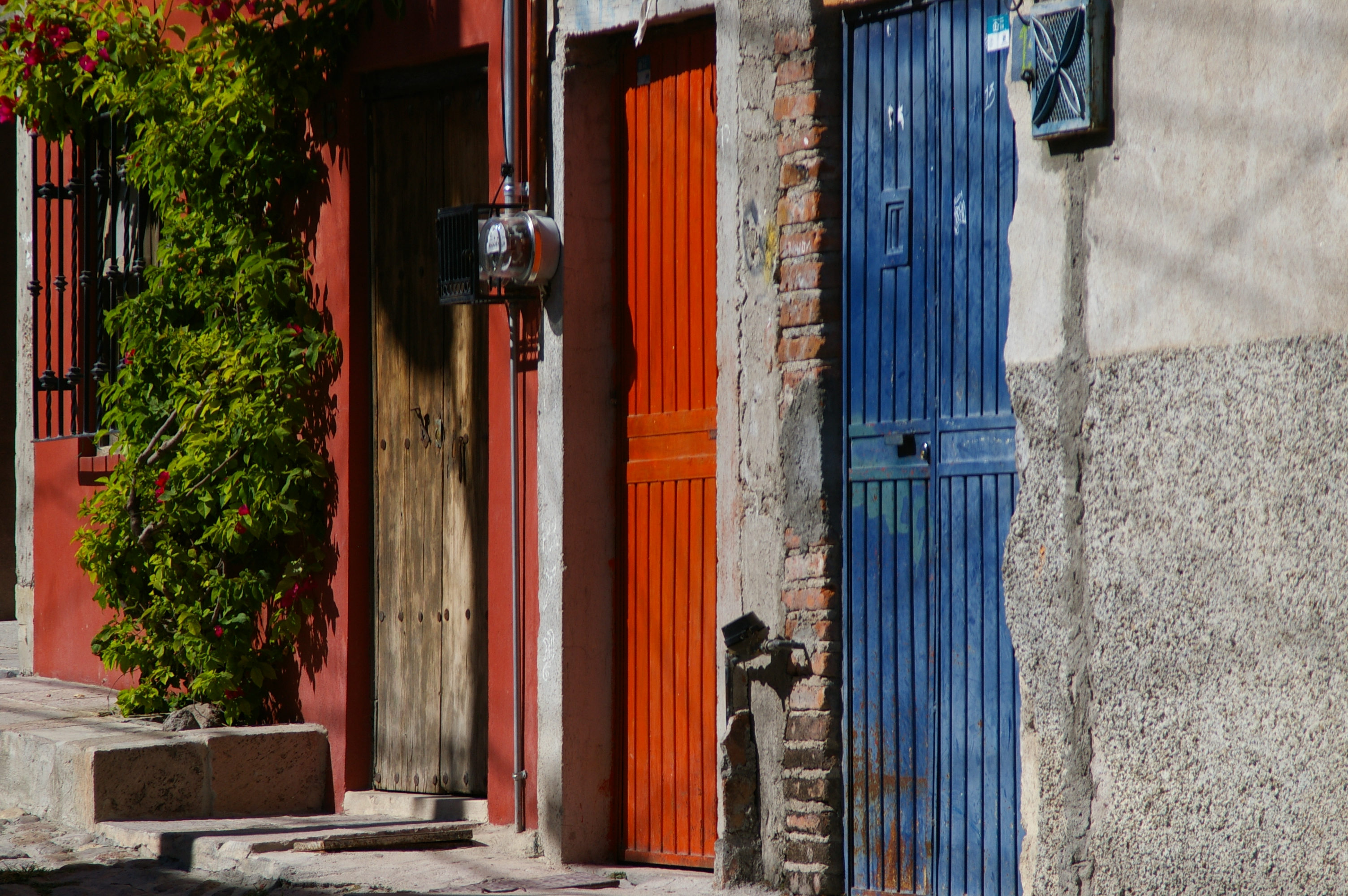 I promised to update this blog as soon as we arrive at our interim destination. Obviously I failed – we've been in Mexico since Friday. I can't even blame it at lack of Internet access – we've been connected all the time. Let me catch up quickly.
Before entering Mexico, we've read countless warnings and articles describing situation in the country, and especially along it's northern border.  Based on all that lectures, we were expecting to enter lawless land of guns, drugs and violence. Being somehow responsible parents, we were terrified with the prospect of encountering "banditos" or running into a random shoot-out. And based on the information disseminated north of the border, those things were supposed to be as common in Mexico, as Walmarts are in the US. No wonder that for the first few hours, I was white knuckling the steering wheel. In reality though, the biggest problem was to find… the right border crossing. The one we were advised to take is a remote bridge called Colombia-Solidarity, about  fifteen miles north from Laredo.
The roads in Mexico are not too bad. There are two categories of them – the free (libre) and the paid (cuota) ones. Obviously, the road conditions are much better on the "cuotas", which I have to say are rather expensive. At least compared to the US. The road surface is mostly made out of concrete and it's well profiled. Obviously not to be compared to the German "autobahns", but nonetheless quite comfortable and safe. The "libres" are full of pot holes and filled with slow local traffic. It's common to see all kinds of animals eating grass on the sides of the road or even on the median. Supposedly they're also much less safe to travel. Especially after dark.
Our GPS has maps from 2007, which doesn't make that much of a difference in the USA, but makes it pretty much useless here in Mexico. However, despite being deprived of modern technology aids, we had almost no problems in finding our destinations. I wouldn't call the road signs as being a particularly good example of traffic coordination, but if you pay close attention, you will find your way around the country without problems.
Finding a particular address in an unfamiliar city is a different story altogether. We arrived in San Miguel de Allende around noon on Saturday. And it took us about an hour to find the house we are staying at. We found the right district, but were unable to find the street. It may have something to do with the fact that we didn't have a map, but I suspect that even if we had one, it wouldn't be of much help, since most of the streets (in that particular district) have no name signs anyway.
We decided to ask for help. My Spanish is about as good as my Chinese, so I was very proud of myself when I put together "donde esta" (where is) and the street address. My wife was really impressed when the taxi driver understood the question without a need for me to repeat it. However, when he explained how to get there, Agnieszka and I only stared at him, unable to understand a word. On second attempt, using internationally recognized hand signals, I suggested to the cab driver that we'll follow him to the destination. Worked like a charm!
The house we're staying at is a luxurious three level / three bedroom / three baths "casa" with a small courtyard with a fountain, large kitchen, office, living room and a rooftop terrace. Quite a change compared to the last couple of months we've spent living in a tent. And the best is, that this palace is actually much less expensive than the camping sites we've been staying at!
I'll write separate posts about the beautiful town of San Miguel de Allende and the festivities surrounding the "Dia de los Muertos" (Day of the Dead) that's being celebrated here right now. For now, lets just say that the ambience of this enchanting  town will affect our further travel plans.  But that's a different subject all together.
Alex making a donation to a band of mariachis singing and playing in the courtyard of a public library in San Miguel de Allende, Mexico.
30-Oct-2011 12:14, PENTAX Corporation PENTAX K100D , 6.7, 70.0mm, 0.008 sec, ISO 400
An electrician preparing power distribution board for the Day of the Dead (Dia de los Muertos) celebrations in San Miguel de Allende, Mexico.
30-Oct-2011 13:13, PENTAX Corporation PENTAX K100D , 5.6, 135.0mm, 0.006 sec, ISO 200
A man setting up a pole with two skulls on the stage in front of a Parroquia, on a centarl square (Jardin Allende) in San Miguel de Allende, Mexico on the Day of the Dead (Dia de los Muertos).
30-Oct-2011 13:36, PENTAX Corporation PENTAX K100D , 6.7, 55.0mm, 0.004 sec, ISO 200
Parroquia, the parish church is a focal point of San Miguel de Allende, Mexico. In front, colorful decorations in preparations of the Day of the Dead (Dia de los Muertos).
30-Oct-2011 13:33, PENTAX Corporation PENTAX K100D , 6.7, 28.0mm, 0.006 sec, ISO 200
Street vendors selling hand crafted items on a cobblestone front yard of the Parroquia on the Day of the Dead (Dia de los Muertos) in San Miguel de Allende, Mexico.
30-Oct-2011 14:07, PENTAX Corporation PENTAX K100D , 5.6, 135.0mm, 0.008 sec, ISO 800