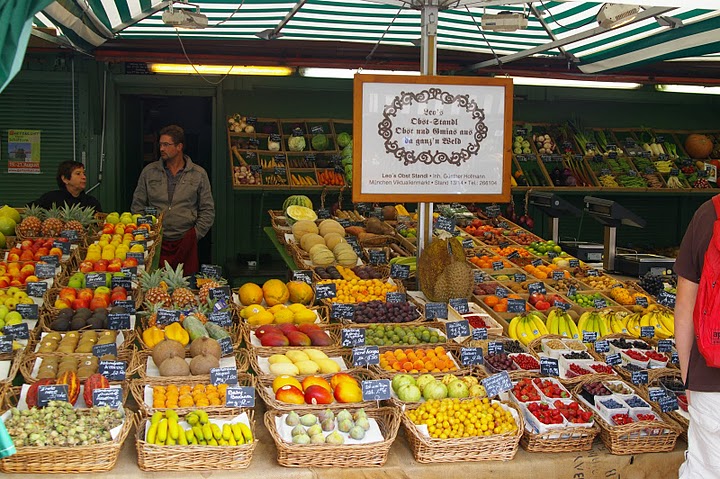 On our way from Germany to Austria, we've made a few hours stop in Munich. It's the capital city of the Bavaria region. The city has been grounded by the monks of the Benedictine order. Therefore the monk depicted on the city's coat of arms. Black and gold are the colors of the Holy Roman Empire and also a symbol of the city since the time of Ludwig the Bavarian (i.e. damn long time ago).
After almost an hour of leaving the highway, we've managed to find a free parking spot near old town. What a bargain: only EUR 3.5 (i.e. USD $ 5) per hour! Fortunately, it's only been few steps from the Viktuelen Markt (sort of Public Market), so we had a chance for a good lunch: kaiser-rolls with pickled Bismark herring and onions, Donner Kebab and Weissen Beer. Well, that's not exactly a typical Bavarian meal, but I'm sure the local wheat beer counts triple at noon, so we should be OK.
While walking around the city we stumbled upon a film crew several times and I wouldn't be surprised if we end up as background for some  German television hit series this season. Even though it's much more probable that we'll be "photoshop'ed out" before the production hits the screens.
Finally, we only have a few pictures this time. That's because batteries in my camera hold charge for a very long time, but when they go bad, they really die unexpectedly…
After traveling around Europe for almost two weeks now, I have to admit that I'm sick and tired of old buildings, wonderful cities and everything being two or three times more expensive than in the US. I'm looking forward to the small towns and villages of Upper Austria, where I hope not everything got so commercialized as in the big cities we've visited so far.